Previously, we looked at the top five quarterbacks in the 2012 NFL draft class. Today, we'll tackle the top running backs.
The 2012 senior class of draft prospects at running back is thin, so much so that four of the top five backs are juniors I expect to enter the draft early to take advantage of the weak class ahead of them.
Who are the top five backs and what makes their game so exciting?
Trent Richardson, Alabama
Vitals
5'11",  224 lbs,  263 carries, 1,583 yards, 20 TD
Film Study
What makes Trent Richardson great isn't the breakaway runs for 50 yards or blinding speed—he has those things, but what I like best and what convinces me most that Richardson will be an elite NFL running back are his vision and balance.
Watch as Richardson takes the ball and is patient enough for his blocks to develop. He finds an opening and then sees a better lane, so he bounces outside one more time. Richardson then has the speed to accelerate past defenders. This may look like a run-of-the-mill play, but it is evidence of Richardson's NFL ability.
Overall
Rarely do I rank running backs as high as I have Richardson, but rarely do running backs enter the NFL with a finished style such as Richardson's. He's ready to be an immediate impact as a runner, receiver and blocker—which makes him a lock for the early part of the first round.
Richardson's best assets are his agility and his vision. Watch as Richardson makes multiple defenders miss in the open field. From the handoff we see Richardson make a decisive cut to elude one tackler and then cut across field into the opening. Before taking the ball in for a score, Richardson executes a perfect stutter-step that causes what should have been a sure tackle to break down.
Whether in the backfield or in space, Richardson is able to make cuts and moves that few backs can make. That doesn't make him a shifty runner, though. Richardson is willing and able to lower his pads and run over defenders.
NFL teams searching for an answer at tailback will quickly fall in love with Richardson.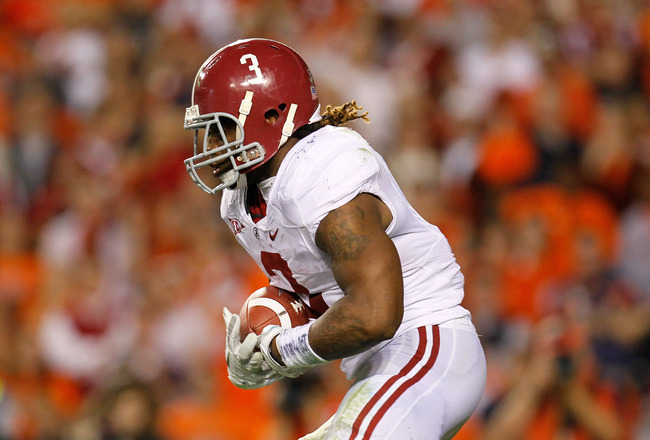 Kevin C. Cox/Getty Images
NFL Comparison: LaDainian Tomlinson
LaDainian Tomlinson set the NFL on fire when drafted, as he became a rare threat as a runner, receiver and blocker. Tomlinson and Marshall Faulk were, and are, a breed apart from the standard NFL back.
Trent Richardson is cut from the same cloth as the two. He has the strength to run through traffic, the vision to run to daylight and the hands to be a reliable option as a receiver out of the backfield.
Ranking
No. 1 running back, No. 3 overall.
Lamar Miller, Miami (FL)
Vitals
5'11",  212 lbs,  227 carries, 1,272 yards, 9 TD
Film Study
Miller played behind a subpar offensive line this year, making most of his plays self-made. This play is great evidence of that.
Miller takes the handoff going right but quickly sees multiple defenders. He has the agility to cut back across the field and then the speed to outrun the defense.
Miller gets a great block when reversing field, but watch his speed to hit the open field and then his balance and strength when running through would-be tacklers. This ability is one that transcends to the next level. Miller made this play on his own, without the benefit of All-American linemen opening holes for him to easily run through.
Overall:
Lamar Miller represents the athlete in this draft class. He is a great runner, receiver and even a threat as a kick returner. Unlike other returners who double as a back, Miller's position in the NFL will be as a starting halfback.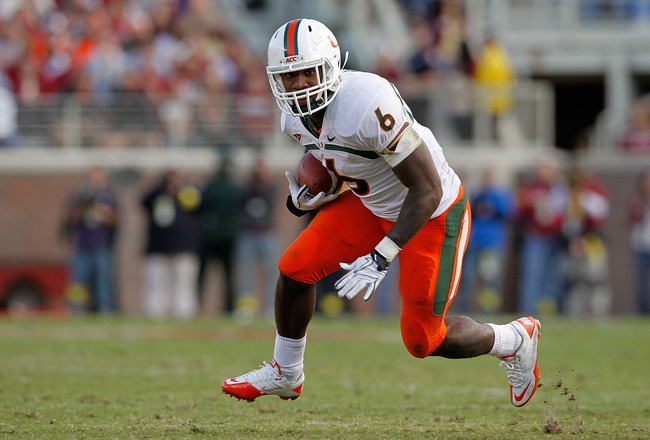 Mike Ehrmann/Getty Images
NFL Comparison: LeSean McCoy
Watch LeSean McCoy for any period of time, and you are blown away by his agility in and out of his cuts and the open field. McCoy has the quickest hips of anyone in the NFL today.
That's what I see in Lamar Miller. His overall athleticism is elite, and his ability to make moves—large or small—to get open and clean of tacklers is very reminiscent of McCoy.
Ranking
No. 2 running back, No. 9 overall.
Chris Polk, Washington
Vitals
5'11", 222 lbs, 263 carries, 1,341 yards, 11 TD
Film Study
There is a lot to like about Chris Polk, and this cut-up shows the power and acceleration that will make him a dangerous man in the NFL.
Polk has the flexibility to make a cut in the hole that few college running backs would make. His vision to see this opening while running through traffic has me excited about what's to come.
Once Polk clears the initial line of defenders he turns on the jets, showing the deep speed and acceleration we look for from NFL running backs.
At 222 lbs, Polk outruns the defense. He may be listed as running a high 4.4 in the 40-yard dash, but Polk's game speed is much faster.
Overall
Polk is a player quickly moving up my board. If any running back from this second tier has a chance of becoming an elite runner in the NFL, Polk gets my vote.
His size, strength, vision and ability to accelerate once in the open field make him a dangerous player and a true three-down back. He has the hands to contribute on third down and is big enough and strong enough to be a factor as a blocker.
The only knock on Polk is his injury history. As long as he checks out medically, I see no reason for Polk to not be an early second-round selection.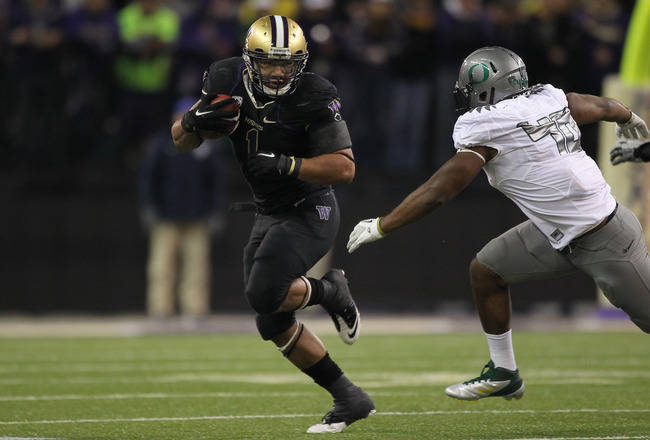 Otto Greule Jr/Getty Images
NFL Comparison: Arian Foster
Like Foster, Polk is a thicker back who survives due to excellent agility and quickness in traffic. Both are also underrated receiving talents, with Foster's skills being a heavy contributor to his early playing time in Houston before he hit the national stage.
Ranking
No. 3 running back, No. 38 overall.
Doug Martin, Boise State
Vitals
5'9″, 210 lbs, 232 carries, 1,148 yards, 15 TD
Film Study
This clip shows Martin's overall athletic ability and skill set. He's used in a number of formations and positions to maximize his speed and get the best matchup. Here he comes across the formation in a jet sweep look.
Martin shows good lateral agility once he squares his shoulders to the line of scrimmage, making a cut to get free. What we see next is a great blend of balance and acceleration. Martin doesn't go down off a shoe-string tackle attempt, but regains his balance and quickly runs away from the defender.
As a smaller back, these are the skills that Martin needs to survive in the NFL.
His quick cutting ability and hard running once he squares his shoulders will give Martin a chance at a starting job in the NFL.
Overall
Doug Martin is a workhorse back with impressive all-around athletic ability. He's been a forgotten man too often due to the high-octane passing attack of Boise State, but he is undoubtedly their best offensive draft prospect.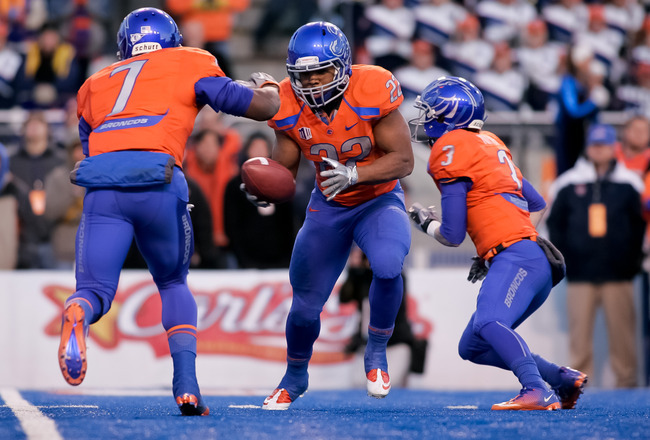 Otto Kitsinger III/Getty Images
NFL Comparison: Ray Rice
Ray Rice holds high praise in my book.
Making the comparison between Martin and Rice is a picture at what the highest-possible ceiling would be for Martin. There are similarities, though, in size, lower-body strength and overall ability.
Both Martin and Rice are good receivers, undersized runners who are tough between the tackles and players with good quickness that masks less-than-elite size.
Ranking
No. 4 running back, No. 54 overall.
David Wilson, Virginia Tech
Vitals
5'10", 205 lbs, 266 carries, 1,627 yards, 9 TD
Film Study
David Wilson can really be summed up on this play. If he gets to the outside, he's gone.
Wilson brings true 4.3 speed to the position and can be used on a number of plays to get his rare burst to the edge. Teams running a one-cut system will like that Wilson is a quick cutter who can put his foot in the ground and change direction without losing speed.
The balance that Wilson shows on the sideline, and the strength to keep himself going, is impressive. While these plays aren't made often in the NFL, Wilson is showing a skill set that is very unique among the 2012 draft class.
Overall
I am admittedly not as high on David Wilson as others, but there is a lot to like here. I will point out one negative that really jumped off the film at me.
Wilson's film that I have seen shows a back that too quickly goes down on first contact, especially if that contact is to his lower body. Wilson needs to work on his overall strength to enable him to run through tacklers at the next level. In the NFL, you simply cannot go down on first contact.
What I do like about Wilson is the speed and versatility he brings to the position. Wilson is arguably the fastest player in terms of speed and on-field quickness.
If he can reach the open field, he's nearly impossible to bring down from behind.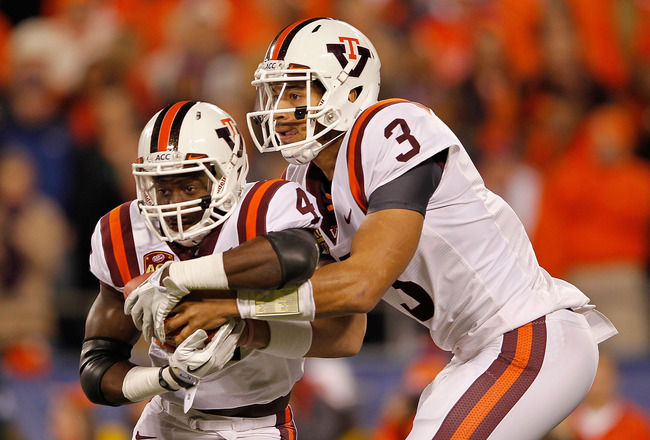 Mike Ehrmann/Getty Images
NFL Comparison: C.J. Spiller
Like Spiller, Wilson is an athlete first and a pure running back second.
A progressive NFL coach will find numerous ways to use Wilson to get the best matchups and exploit the defense.
Also like Spiller, Wilson doesn't possess traditional size for the running back position, but has great speed and top-notch receiving skills to make him an option as a third-down back and used in receiving packages.
Ranking
No. 5 running back, No. 75 overall.