Our very own Luke Irwin is back with his take on the games to watch and stories to follow this weekend.
Without further ado…
THURSDAY SEPTEMBER 3
7:00
South Carolina @ NC State: ESPN
7:30
North Texas @ Ball State: ESPNU
8:00
Eastern Kentucky @ Indiana: BigTen
10:15
Oregon @ Boise State: ESPN
FRIDAY SEPTEMBER 4
8:00
Tulsa @ Tulane: ESPN
SATURDAY SEPTEMBER 5
Noon
Navy @ Ohio State: ESPN
Minnesota @ Syracuse: ESPN2
Kentucky vs. Miami OH (in Cincinnati): ESPNU
Akron @ Penn State: BigTen
Northern Iowa @ Iowa: BigTen
Montana State @ Michigan State: BigTen
Towson @ Northwestern: BigTen
Toledo @ Purdue: BigTen
3:30
Georgia @ Oklahoma State: ABC
Baylor @ Wake Forest: ABC/ESPN2
Western Michigan @ Michigan: ABC/ESPN2
Nevada @ Notre Dame: NBC
San Jose State @ USC: FSN
Jackson State @ Mississippi State: ESPNU
3:40
Illinois vs. Missouri (at St. Louis): ESPN
7:00
BYU vs. Oklahoma (at Arlington, TX): ESPN
Louisiana Tech @ Auburn: ESPNU
Northern Illinois @ Wisconsin: BigTen
8:00
Alabama vs. Virginia Tech (at Atlanta): ABC
9:00
Buffalo @ UTEP: CBSCollege
10:00
Maryland @ California: ESPN2
10:30
LSU @ Washington: ESPN
SUNDAY SEPTEMBER 6
3:30
Ole Miss @ Memphis: ESPN
7:00
Colorado State @ Colorado: FSN
MONDAY SEPTEMBER 7
4:00
Cincinnati @ Rutgers: ESPN
8:00
Miami @ Florida State: ESPN
————————————————————————————————-
Game Of The Week
BYU vs. Oklahoma – Super ups to Oklahoma to have the stones to put this game on their schedule. In week 1, no less. Love seeing BCS teams sack up with big non-conference games. They're like the anti-Nittany Lions, who are still finding a way to circumvent the "no playing Junior Colleges" rule. For BYU, this win automatically jumps them up into National Title contention, and gives them their biggest win in 20 years. For Oklahoma, this is precisely the type of game that, if they get into another stalemate with Texas or Texas Tech again, or Oklahoma State, will help push them over the top and give them the nod. Should be an absolute shootout.
Upset Special
Baylor over Wake Forest – The window is just about closed on Wake's few years of success, while Baylor is starting to look just like Wake did when it was rising up a few years back (up-and-coming coach and QB band together to raise the collective talent of everyone around them while the general public pushes for them to succeed). No more Aaron Curry to bail Wake out anymore, as well. You want to see Baylor finally break through, don't you?
Don't Touch That Dial
Louisiana Tech vs. Auburn – Though I'll be flabbergasted if either team breaks 20 points, this will be a good test for both teams, and could get the already smoldering Fire Gene Chizik fire into a full-scale backdraft. How will the new-look Auburn offense look against a surprisingly feisty Louisiana Tech defense, led by D'Anthony Smith? This one's probably gonna end up 17-13, but which way it goes is anyone's guess.
Gameday Food Of The Week
MEAT
-I have dedicated my time for the week I'm spending with him to strip Loomis of his teh gay. His organic, yoga, meditating, exfoliating ass is about to be brought back into man-world, and nothing quite does that like a shitload of meat on a tailgaiting grill, just like we did at Notre Dame in '05. HOO-RAH!
Gameday Drink Of The Week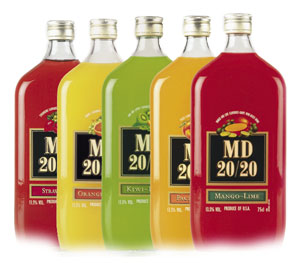 Mad Dog 20/20
-Another callback to the Notre Dame-BYU game in 2005. We drank this shit for breakfast to get our fruits for the day, like some people drink Orange Juice. Breakfast of champions, Mad Dog and a shitload of meat. Wow, we were hammered. But we gotta keep tradition alive and slug down a few bottles of this delicious concoction.
Gameday Jersey
-I will be wearing this fantastic garment to the game. Hopefully Charlie will surprise us all with the greens on opening day and I'll look like a goddamn visionary.
Gameday Fan Peptalk
Men, I shouldn't even have to have this talk with you. This is WEEK FUCKING ONE OF THE COLLEGE FOOTBALL SEASON. Now, sure, in years past, Week 1, while awesome as a spectacle, seldom delivered on the field. I know that. While it was amazing to watch your team run out onto the field for the first time of the beloved season, by the time they were beating The Citadel 52-0, the excitement may have dissipated. We don't get a preseason, men, and as such, most college teams treat the first week as one. For that I can't fault them. But for the teams WITH A FUCKING SACK, I RAISE MY GLASS TO YOU! BYU-OKLAHOMA! OREGON-BOISE STATE! ILLINOIS-MISSOURI! MIAMI-FLORIDA STATE! ALABAMA-VIRGINIA TECH! CINCI-RUTGERS! GEORGIA-OKLAHOMA STATE! Teams' National Title hopes could be dashed or sprung in the first week! Even the second-tier games like Navy-Ohio State, Cal-Maryland, NC State-South Carolina, Colorado-Colorado State, Baylor-Wake, and Minny-Cuse have divisional titles, huge rankings jumps and strength-of-schedule implications at hand!
This ain't your dad's Week 1 anymore, gentlemen. Buckle up. Let's do this.